FIND YOUR LOCAL TRANSPORT PROVIDER
Find your local transport provider
For information on local transport, select your area to be taken to your local transport website
i
Tyne and Wear Passenger Transport Executive NEXUS
i
Cumbria County Council
i
Connect Tees Valley
i
North Yorkshire Passenger Transport Executive
i
West Yorkshire Passenger Transport Executive
i
Lancashire County Council
i
Transport for Greater Manchester
i
South Yorkshire Passenger Transport Executive
i
Hull City Council
i
Merseytravel
i
Warrington & Cheshire Travel
Integrated and Smart Travel
The way we pay for travel and source information on public transport is changing.
Transport for the North is working in partnership with operators, transport authorities and the Department for Transport to deliver a scheme that will make it easier for passengers to travel seamlessly using their preferred payment method, confident that they have paid the cheapest possible on the day fare for their journey.
Our vision is to see integrated and smart travel established in the North, not only making life easier for current passengers, but also encouraging new passengers to travel by public transport throughout the region to support economic growth.
Customers can already use a smartcard, contactless bank card or their smartphone to pay for travel by public transport in the parts of the North of England. Our programme will build on existing systems to develop smart ticketing, payment and information technologies to transform travel across the North – making traveling by public transport simple, attractive and convenient.
This will include:
• Clear route options – quick and clear information including real-time updates on travel changes and disruptions
• Simple and fair pricing –customers will be sure that they are paying the best price for their journey at the point of travel
• Easier payment – systems fully compatible with a range of smart devices and contactless payment cards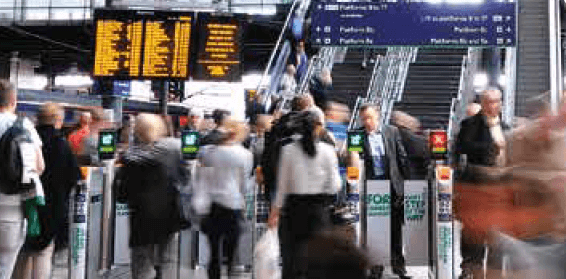 Programme objectives
Transport for the North's Integrated and Smart programme will work towards its vision by delivering four key programme objectives:
• Enabling economic growth in the North
• Improving the customer experience
• Increasing efficiency across the transport network
• Providing a consistent and familiar travel experience throughout the North
The programme will be delivered in three phases over the next 4 years.
Delivering the programme
Phase 1
Smartcard on Rail
The delivery of early benefits focused on rail including the introduction of smart and integrated travel to customers by working with train companies and the Department for Transport to issue smart card products, complementing the availability of barcode ticketing for other journeys.  This first phase will also form part of a national programme to roll out smart ticketing on all rail travel.